Mâcon rosé 2019
Belle robe grenat, nez de fruits frais, fraise et cassis, bouche ronde avec des tanins bien présents.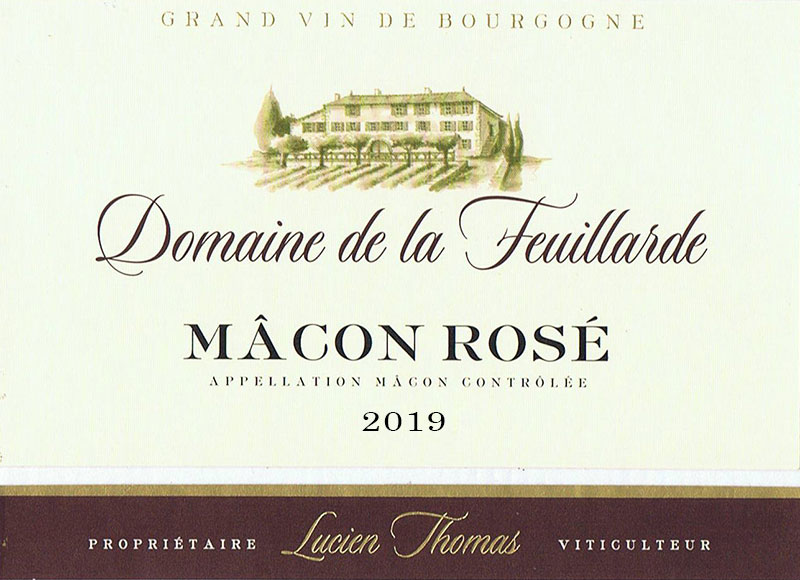 Vine location:
village of Prissé.
Type of soil:
Granite and clay, limestone .
Exposure:
south west on the hillside and on the plateau, enjoying maximum sunshine
Grape variety:
100 % white juiced black Gamay .
Vine age:
40 years old on average.
Training system:
Simple Guyot, 4 to 5 buds. Green harvest, soil ploughing, natural fertilizing . Our vine-growing approach obeys 2 principles :
– an environmentally-concerned agriculture.
– a rational pest control.
Harvest:
careful selection of the grapes during picking and second selection on arrival at the winery if necessary. Hand-picking, + at the winery : incoming grapes processed by gravity .
Winemaking:
semi- carbonic fermentation achieved in concrete vats and lasting 6 to 8 days ( temperature controlled and maintained at 28 to 30° C ). Regular pumpings-over. After devatting and pressing, end of fermentation at 20° C .
Characteristics:
dark ruby colour with purple-blue tints. Aromas of small red fruit ( blackcurrant, raspberry) with spicy undertones. Rounded wine with mature tannins, revealing a fleshy and velvety structure .
Food and wine match:
best when served slightly chilled ( 14 to 15° C ). Charcuterie ( = cooked pork meats), grilled meat, roasted meat, soft-tasting cheese .